About us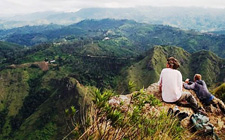 In the true sense of the words "Heaven's Edge" the hotel provides tranquility in a picturesque setting. The vision of our hotel is to provide a personalized exclusive service to the discerning traveler. Located in Ella, 11 Km off the cooler climes of Bandarawela, it enjoys uniqueness with its own features. In close proximity to Ella Railway Station, Ella Gap, and Rawana falls, it has created a safe haven of comfort, blended with scenic beauty.
The Heaven's Edge is s purposely built hotel consists of 27 modern rooms. The rooms in the new wing are spacious with comfortable teak king size beds, modern furniture, the elegant bath rooms with luxurious fittings, LED TV's with Local and International channels, Telephone with I.D.D. facilities add colour to every room.
We serve gourmet food with better palette and presentation at our Restaurant & Bar designed, having unique futures. You may undoubtedly find this place a haven for relaxing away from all the hustle bustle of the city life, and once visited we will be sure you that you will fall in love with this unmatched product in the area.
If you look for a family get to gather, a seminar, or entertain a local or a foreign visitor in up country you will find this place ideal with a beautifully layered garden and pool area for relaxation. More than anything, it will be a honeymooner's paradise which is in the traditional honeymoon route.
Management Expertise
The management team, headed by Shanthikuma Fernando (Managing Director), has 40 years experience in the tourism and hospitality industry, a person who spent a considerable part of his life in managing hotels in the Ceylon Hotels Corporation. After resigning from CHC he have embarked on small family hotel project in Ella called Country Comfort Inn in 1997. It was started with 07 rooms and today it's a 20 roomed hotel property. "Heaven's Edge" is the second hotel property in the company.
His 3 son's (Sushan, Suren & Shalin) are also directly involved in the business and in the Tourism and Hospitality industry, where all three have been graduated from the prestigious Ceylon Hotel School - Colombo (SLITHM). Sushan is also a graduate from Leeds Metropolitan University UK, obtaining his Master of Science (Msc.) degree in International Hospitality Management. All three son's have working experience in 5 star hotels in Colombo.
Responsible Tourism
It is our objective to:
- Ensure that the local people benefit economically from "Heaven's Edge" and from tourism in the area
- Enhance the well being of people living within the local communities around "Heaven's Edge"
- Minimize the impact that we have on both the cultural and natural environment
- Provide more enjoyable experiences for our guests through more meaningful connections with our local environment and local communities

At "Heaven's Edge" we are committed to operating responsibly and sustainably. This means that our entire business is accountable not only economically but also socially and environmentally. We aim to minimize the negative impacts and maximize the positive impacts we have on our bottom line. In simpler terms this means that we aim to create a better place for people to live and a better place for people to visit.
We take our responsibilities to our staff, the local communities, environment, guests, travel agents, tour operators, suppliers and business partners very seriously. We don't claim to be experts at all and we realize we have a long way to go before we have achieved our objectives. For us this is a journey and we believe that the time has come when everyone has a responsibility to make a difference by the way they act. We welcome you to be a part of our journey, and value your feedback to assist us along the way.